I woke up to a snowstorm today. This is both good and better. I have lots of time to write this morning as I'm snowbound. Ha, love it! Take a look out my kitchen window.
So far I've had a productive week; here's what I've got on the go.
One: Write something at least five times or more each week.
Yep, right on track here.
Two: Write a minimum of 2500 words each week.
Got this week covered already, now to make up last week's shortfall.
Three: Publish at least six new novels in 2012.
I didn't publish this week (dang) but I have managed to revise three chapters of a WIP. I also started a new Novan Witch novel.
Four: Read and review six or more first novels by new authors. (I don't give bad reviews, so don't panic, I'm friendly, honest.
J
Reviewed Karma's a Bitch by Shannon Esposito. Great story, great new writer, check her book out here: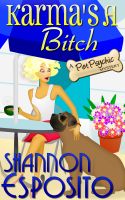 Now I'm looking for another new writer to check out; anybody got a book by a new writer for me to check out?
Five: do more to be supportive of new and struggling writers.
This one is a work in progress. I have read and commented on about fifteen blogs or more in the past three days.
Six: Publish a small collection of erotic short stories. Hey, I've been around for over sixty years, and this one is on my bucket list. I will make it happen in 2012.
This one is in the works. Patience folks, patience. Tee hee
So, how's your week going?