I just finished reading Karma's a Bitch by Shannon Esposito and couldn't wait to tell you all about it. I get excited when I get a chance to read a new author's work, for I am often surprised and delighted. Karma is no exception. Shannon is a fine storyteller, and has a world of potential. Her style is easy to read, flows nicely, and her characters are great.
Darwin is truly a girl after my own heart. An innocent soul lost in a reality she doesn't truly understand, Darwin never-the-less manages to survive and thrive, drawing a unique cast of characters to her side.
Karma reminds me of a powerlifter I used to know, big, strong, loyal, and all too often underestimated. When Darwin and Karma team up to solve a mystery nobody wants solved, they are unstoppable. Their sheer determination will force the issue to reveal itself.
This book is a delightful little mystery, with an engaging cast of characters, holds a number of twists and turns, and a surprise ending. I thought I had the crime figured out, but nope, surprise ending.
Here's where to find the book. I hope you enjoy it as much as I did.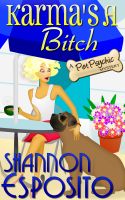 Karma's a Bitch truly left me wanting more adventures from these characters. How about it Shannon, any chances?