Hi folks, 2012 is upon us, like it or not. As I have said before, this year I want to read and review the work of new authors, preferably their early efforts. Through these reviews I hope to introduce myself, and you, to some great new writers. So, here we are again with an author's first effort.
The book is Carly's Conspiracy by Diane Capri. I have to say, I truly enjoyed this story. It is a mystery with enough twists and turns to keep anybody on the edge of their seat. I was within a few pages of the end and still didn't know who the murderer was; heck, I wasn't even sure of the motive.
Diane's style is a bit different, her sentences often clipped, much like one would read in a personal diary. It made her characters all the more human and easy to identify with. It is obvious that she is quite familiar with the setting and world of which she writes, making the tale that much more engaging.
If you like a good whodunit, this book is a sure winner, especially considering it was a first effort. I can only imagine how great her stories will be when Diane is more comfortable in her writer's skin. I predict great success in her future.
Here's where to find the book. Read it, you'll be glad you did.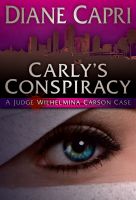 Diane, thanks for hours of great entertainment. I give this one five stars.