Book Review: Stone Relics
The latest book I have finished is Stone Relics by Katy Walters. This is another author's first effort. I continue to be thrilled and amazed at the richness and scope of story conceived by new authors and Katy Walters is no exception. This is a rollicking good story that will hold your interest from beginning to end. The book does carry an adult warning.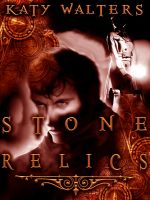 There are a few issues to be aware of; the main characters need a bit more development earlier on. Also, the author can get a bit bogged down in repetitive police procedures, obviously a subject she knows well. Please do not let this stop you from reading this book. It is a great story with plenty of baffling twists and turns to the plot. It does hold up well, and I confess, I thoroughly enjoyed it. I look forward to further adventures of Ben and Lucy. Katy Walters is an author to keep an eye on; she is a spinner of fine tales. I'm giving this one four stars.